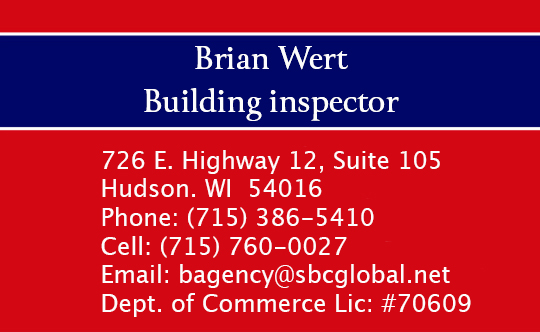 Online Permit Application
Brian Wert Inspection Agency
Located in Hudson Wisconsin, the Brian Wert Inspection Agency helps you complete your building inspection requirements for many municipalities in Western Wisconsin. We offer both residential and commercial inspection services for new construction.
Brian Wert is certified in both residential and commercial building inspections. Brian also specializes in home inspections and is a registered Cross-Connection Control Device Tester. Amanda, our office assistant, is available at our main office to help you with questions and scheduling.
Village of Woodville
All forms and documents for the Village of Woodville can be faxed or brought to the Woodville Village Hall.
Woodville Village Hall
PO Box 205
102 South Main Street
Woodville, WI 54028
Phone: 715-698-2355 Fax: 715-698-2697
Building Permits for the Village of Woodville
Please click here to fill out our New Online Permit Application form.
Or, Download the fillable PDF Permit Application form.
Office Location
726 E. Highwya 12, Suite 105
Hudson, WI 54016
Open Hours
M-F: 8am – 4pm
(715) 386-5410