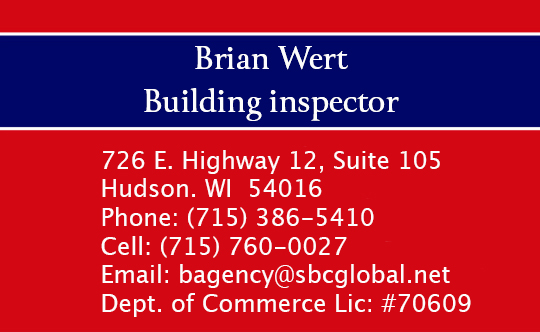 Online Permit Application
Brian Wert Inspection Agency
Located in Hudson Wisconsin, the Brian Wert Inspection Agency helps you complete your building inspection requirements for many municipalities in Western Wisconsin. We offer both residential and commercial inspection services for new construction.
Brian Wert is certified in both residential and commercial building inspections. Brian also specializes in home inspections and is a registered Cross-Connection Control Device Tester. Amanda, our office assistant, is available at our main office to help you with questions and scheduling.
Town of Hudson
All forms and documents for the Town Of Hudson can be faxed or brought to the Brian Wert Inspection Agency.
Brian Wert Inspection Agency – Main Office
726 E Highway 12, Suite 105
Hudson, WI 54016
Phone: 715-386-5410
Fax: 715-386-5932
Town of Hudson Website
Town of Hudson Code Book
Building Permits for the Town of Hudson
Information listed below is to be entered into the Wisconsin Uniform Building Permit Application and may be dropped off at the Brian Wert Inspection Agency.
Please click here to fill out our New Online Permit Application form.
Or, Download the fillable PDF Permit Application form.
1 –

 

NAME, ADDRESS AND PHONE # ( FAX # ALSO) OF THE FOLLOWING :
           

 

A.

 

OWNER
                                NAME
                                ADDRESS
                                PHONE # (FAX # AS WELL)
           

 

B.

 

GENERAL CONTRACTOR ( INCLUDE LICENSE # )
                                NAME
                                ADDRESS
                                PHONE # (FAX # AS WELL)
           

 

C.

 

HEATING ( HV AC ) CONTRACTOR ( INCLUDE REGISTRATION # ) 
                                NAME
                                ADDRESS
                                PHONE # (FAX # AS WELL)
          

 

D.

 

ELECTRICIAN
                                NAME
                                ADDRESS
                                PHONE # (FAX # AS WELL)
           

 

E.

 

MASTER PLUMBER ( INCLUDE LICENSE # )
                                NAME
                                ADDRESS
                                PHONE # (FAX # AS WELL)
2 –

 

2 SETS OF BUILDING PLANS ( 1 WILL BE RETURNED )
3 –

 

SITE PLAN WITH SOIL EROSION CONTROL PLAN (Download Form as PDF File)
4 –

 

WISCONSIN ENERGY WORKSHEET (
Download Form as

 

Word File

 

or

 

PDF File)
5 –

 

LEGAL DISCRIPTION OF PARCEL
6 –

 

DRIVEWAY PERMIT
            Town roads from building inspector
            County roads from

 

St. Croix County Highway Department
            State roads from

 

Wisconsin Department of Transportation – Eau Claire
7 –

 

SANITARY PERMIT FROM COUNTY THROUGH LICENSED INSTALLER
8 –

 

ESTIMATED BUILDING COST (DO NOT INCLUDE COST OF LAND)
COMPLETE ALL APPLICABLE ITEMS
Office Location
726 E. Highwya 12, Suite 105
Hudson, WI 54016
Open Hours
M-F: 8am – 4pm
(715) 386-5410