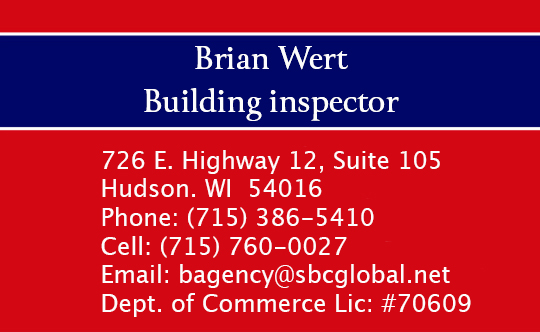 Online Permit Application
Brian Wert Inspection Agency
Located in Hudson Wisconsin, the Brian Wert Inspection Agency helps you complete your building inspection requirements for many municipalities in Western Wisconsin. We offer both residential and commercial inspection services for new construction.
Brian Wert is certified in both residential and commercial building inspections. Brian also specializes in home inspections and is a registered Cross-Connection Control Device Tester. Amanda, our office assistant, is available at our main office to help you with questions and scheduling.
State Of Wisconsin
Division Of Safety and Buildings
Division Of Safety and Buildings Office Locations
Wisconsin Safety And Buildings Division Inspectors For St Croix & Polk County
This is a listing of Safety and Building Division staff who provide services to St Croix & Polk County.
Click on the last name of the inspector to get more contact information.
Boiler and Pressure Vessel Inspector – Duane Leetch
Commercial Building Inspector – Nick Charles
Electrical Consultant – Ray Weber 
Elevator Inspector – David Holmes
Fire Prevention Coordinator- John Andersen
Gas Systems and Anhydrous Ammonia Systems Inspector – Duane Leetch 
Industrial Hygienist – Susen Trail
Mine Safety Specialist – Richard Chier
Occupational Safety Inspector – Scott Amacher
Plumbing Consultant – Jim Wehinger
UDC Consultant – Jack Miller
Wastewater Specialist – Leroy Jansky
Wisconsin Department of Transportation Telephone List 
State Driveway Permits Contact Number – 608-266-3438 or 608-266-3813
Specialty Telephone Contacts
Barrier Free Access

Donna Stilen

262-548-8609

Code Sales

800-362-7253

Credentialing

608-261-8500

Elevators

Brian Rausch

262-521-5444

Fire Protection Systems

Keith Glaunert
Bill Sullivan
262-548-8604
608-266-9643

Heating and Ventilation

Randy Dahmen

608-266-3162

Hospitals & Nursing Homes

DHFS

608-266-3878

Industrial Hygienists

Richard Brandt
Tom Pritchett
262-521-5187
608-592-3974

Lighting

Randy Dahmen

608-266-3162

Manufactured Dwellings

Gary Ekes

608-388-0108

Mobile/Manufactured Homes

608-266-8577

Plan Review Status

See S&B Offices Above

Refrigeration

Mike Verhagen

262-548-8617

Structural Steel Welding

Mike Verhagen

262-548-8617

Swimming Pool Review

Glen Schlueter

608-267-1401

Uniform Dwelling Code

Leroy Stublaski

608-267-5113

Rental Weatherization

Delores Kolosovsky

608-267-2240

Teletypewriter (TTY)

608-264-8777
Office Location
726 E. Highwya 12, Suite 105
Hudson, WI 54016
Open Hours
M-F: 8am – 4pm
(715) 386-5410