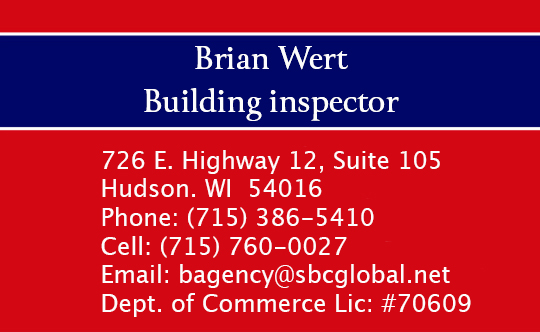 Online Permit Application
Brian Wert Inspection Agency
Located in Hudson Wisconsin, the Brian Wert Inspection Agency helps you complete your building inspection requirements for many municipalities in Western Wisconsin. We offer both residential and commercial inspection services for new construction.
Brian Wert is certified in both residential and commercial building inspections. Brian also specializes in home inspections and is a registered Cross-Connection Control Device Tester. Amanda, our office assistant, is available at our main office to help you with questions and scheduling.
St. Croix County
St. Croix County Government Center
1101 Carmichael Road
Hudson, WI 54016
Phone: 715-386-4600
St. Croix County Government Center Website
The following is a list of various St. Croix County links you may find useful in the building process.
All links will open up a new browser window.
St. Croix County Website
Find general information about St. Croix County including links to county forms and documents as well as all the county departments.
Zoning Department
Includes di"rect"or name, address,  telephone and fax numbers along with hours and an email link.
Zoning Department Services
Includes ordinances, rezoning, subdivisions/lot creation, special exceptions/conditional uses, variances, code enforcement, fee schedule, setback and general lot information and department statistics.
Wisconsin Safety And Buildings Division Inspectors For St. Croix County
This is a listing of Safety and Building Division staff who provide services to St. Croix County. Click on the last name of the inspector to get more contact information.
     Boiler and Pressure Vessel Inspector – Duane Leetch
     Commercial Building Inspector – Nick Charles
     Electrical Consultant – Ray Weber
     Elevator Inspector – David Holmes
     Fire Prevention Coordinator- John Andersen
     Gas Systems and Anhydrous Ammonia Systems Inspector – Duane Leetch
     Industrial Hygienist – Susen Trail
     Mine Safety Specialist – Richard Chier
     Occupational Safety Inspector – Scott Amacher
     Plumbing Consultant – Jim Wehinger
     UDC Consultant – Jack Miller
     Wastewater Specialist – Leroy Jansky
Office Location
726 E. Highwya 12, Suite 105
Hudson, WI 54016
Open Hours
M-F: 8am – 4pm
(715) 386-5410